Congratulations to Jamye Sagan on winning the August edition of the SIG's fun new contest: "Where in the World is Monte, the P&P SIG mascot?"
Each month, SIG member Tricia Spayer, submits a photo of me, Monte, taken on one of our travels together.
Jamye's guess, "Lake Erie," was closest to my actual location in the photo on Lac La Belle in the Keweenaw Peninsula of Michigan.
That's red sand behind me. It's the by-product of copper mining that occurred in Upper Michigan, specifically the Keweenaw Peninsula. According to the US Geological Survey, about 7.5 Billion pounds of copper was produced from 1845 till about 1918. That's why they call it "Copper Country."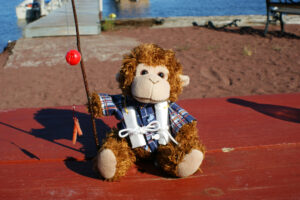 Check your inbox for September's newsletter to learn more about the August photo and get a first look at September's photo.